---
Graphic Identity for
Kehinde Wiley: An Archaeology of Silence
︎︎︎
view project
An Archaeology of Silence is a new body of paintings and sculptures from American artist Kehinde Wiley that confront the silence surrounding systemic violence against Black people through the visual language of the fallen figure. For the U.S. premiere of the exhibition at the de Young museum, I used typography and materiality to suggest a lack of visibility, something lingering beneath the surface, ready to come to light.

Identity System, 2023

---
FAMSF Video Graphics Templates
︎︎︎
view project
The
AREA 17 redesign of the FAMSF website
introduced new styles into our brand identity that our in-house team then needed to rescale and disseminate into multiple facets of our brand application. For this project, I explored how to leverage these new elements into video graphics templates in order to create brand recognition and visual cohesion between the new website and our other digital content such as social media and video productions.
Video Templates, 2022
---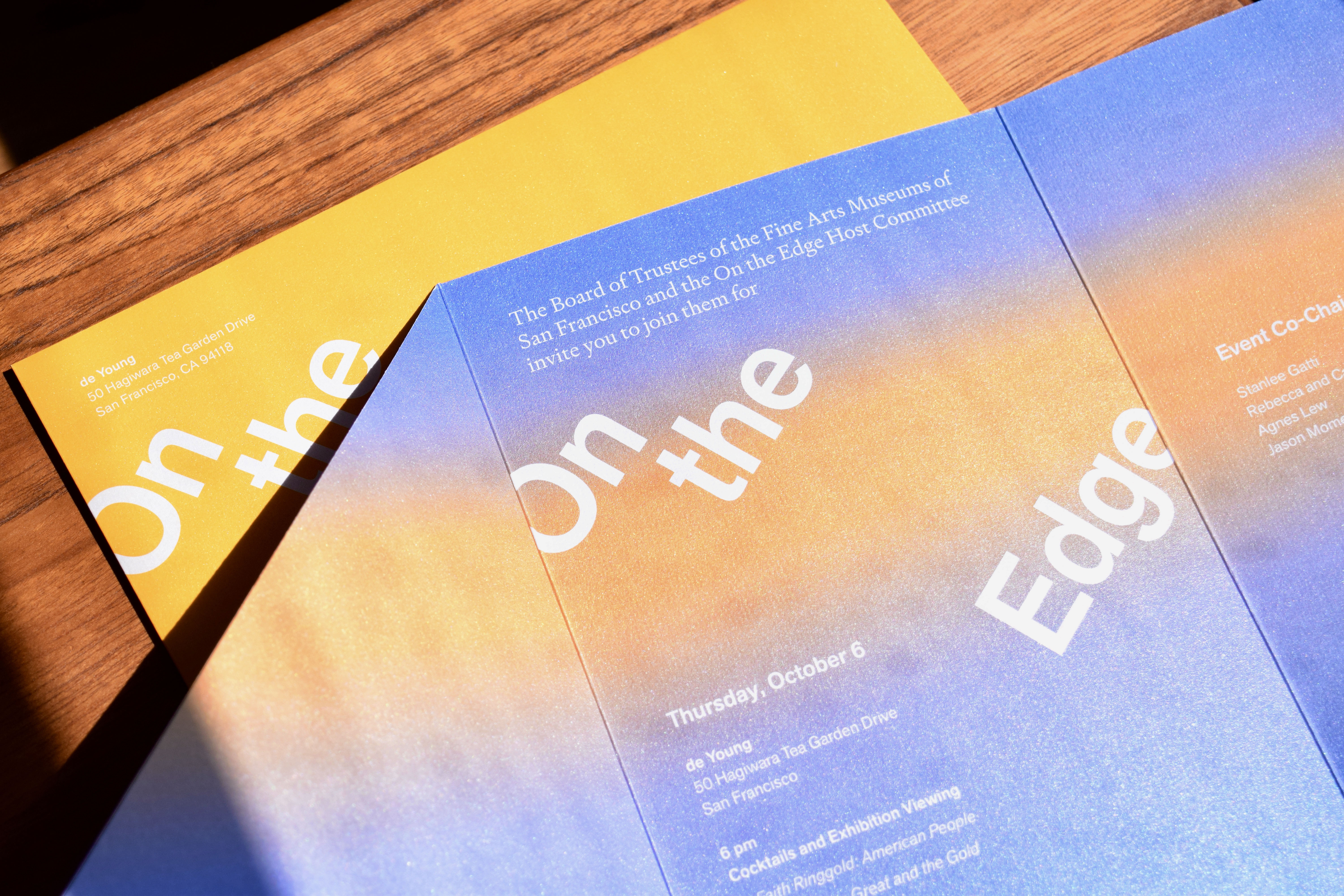 On the Edge 2022
︎︎︎
view project
FAMSF's annual benefit, On the Edge, helps raise critical support for a new era of innovative programming for Bay Area audiences and beyond. For On the Edge 2022, we sought to create a cutting-edge and innovative event that taps into the cultural zeitgeist to attract global partners and inspire a new generation of modern audiences from around the world.

Event Collateral, 2022

---
Graphic Identity for
Alice Neel: People Come First
︎︎︎
view project
Identity for Alice Neel: People Come First, the first comprehensive West Coast retrospective of Neel's work hosted by the de Young museum. The exhibition includes depictions of Neel's neighbors in Spanish Harlem, political leaders, queer cultural figures, activists, and mothers, along with a diverse representation of nude figures, including visibly pregnant women. Neel's "pictures of people" embody a rare candor and irreverence.

Identity System, 2022

---
Graphic Identity for
Guo Pei: Couture Fantasy
︎︎︎
view project
Identity for Guo Pei: Couture Fantasy, an exhibition at the Legion of Honor museum that charts the trajectory of Guo Pei's career as a leader in the fashion world in the early twenty-first century. Through exquisite craftsmanship, lavish embroidery, and unconventional dressmaking techniques, Guo Pei creates a fantasy that fuses the influences of China's imperial past, decorative arts, European architecture, and the botanical world.

Identity System, 2022

---
Whiz World Issue #7: Extraction
︎︎︎
view project
WHIZ WORLD is a publication, a collaborative network, and an evolving art machine. It highlights the lived experiences of women identifying and non-binary artists with two driving principles: each whiz is an expert in their lived experience, and play creates imaginative solutions to grave conflicts. They write from a speculative magical feminist perspective, use allegory and magical language to scrutinize our political climate and combat pervasive misogyny.

Zine, 2022

---
Branding and Exhibition Collateral for FAMSF
︎︎︎
view project
A variety of museum-related graphics—for print, outdoor/environmental, video and digital platforms—for the de Young and Legion of Honor museums (FAMSF).

Various, 2021–2022
---
Temporal Collisions
︎︎︎
view project
Graphic Design MFA Thesis for the Rhode Island School of Design, synthesizing a body of work produced over the course of the program. A mix of project documentation, research, writing and interview. This book articulates an affinity for confusion and noise, gleaning, getting lost, temporal collisions and play.

Book Design, 2020
228 pages, 7.25 x 10 in.
---
L'endroit est ici

2-color Risograph Print, 2019
4.5 x 5.75 in.



---
Permutations
︎︎︎
view project

I gathered and cataloged a wide range of unrelated objects in my possession. In order to make sense of this collection, I began to join objects through six degrees of separation. The structure of the book attempts to give visible form to my meandering thought patterns. The imagery bleeds from one association to the next with text that flows across the gutter. The reader must stumble around the loose logic of my internal monologue.

Book Design, 2019
64 pages, 5.5 x 8.5 in.
---
Confounding Idioms
︎︎︎
view project
A set of instructive videos on multilingual idioms. Exposing the absurdity of gaps in translation through satirizing the educational video genre, leaning into awkward timing, graphics and strange reveals.

Video, 2020
Duration 2:35
---
Desktop Disaster
An inquiry into the behavior of natural disasters got me thinking about the digital spaces we inhabit and how they might become threatened. Envisioning each icon as a point in a mapped landscape, I orchestrated an environmental disaster on my desktop. The brief animation explores a hybridizing of glitch and interface aesthetics with weather radar maps to draw parallels in their behavior.

Video, 2019
Duration 0:15
---
RISD GD MFA Biennial
︎︎︎
view project

The 2019 Graphic Design MFA Biennial responds organically and generously to work from the past two years like a string of acronyms. We named the show "OtEoN — On the Edge of Normal" to exaggerate the curatorial gesture, collapsing the many facets of graphic design into one.

Exhibition Design
Sol Koffler Gallery — Providence, RI
Apr 4-21, 2019
---
Newly Formed
Select coursework from Newly Formed with Chris & Kathleen Sleboda of Draw Down Books, focusing on advanced composition, experimental form-making and image-making using generative and iterative approaches, an array of materials, techniques and formats.

Mixed Media, 2019
Left: Posters, 18 x 24 in.

---
Visiting Designers

The Visiting Designers Lecture Series is hosted by the RISD Graphic Design MFA program in coordination with the graduate-level course that provides workshops with designers over the 12-week semester. This poster was designed to advertise the kickoff lecture for the workshop with artist, designer, and writer, Laurel Schwulst (RISD BFA GD 2010).

Poster Trio, 2019
11 x 17 in
---